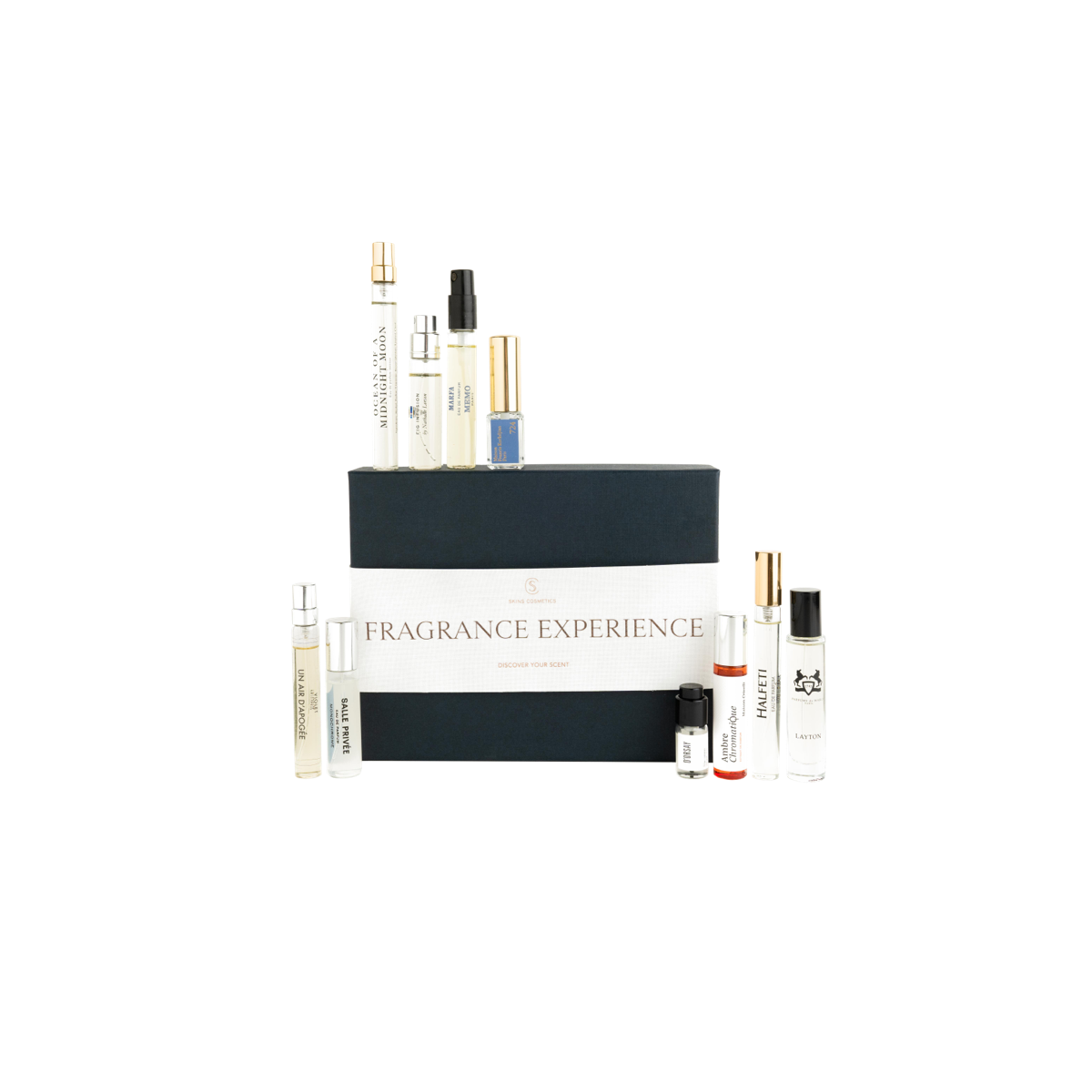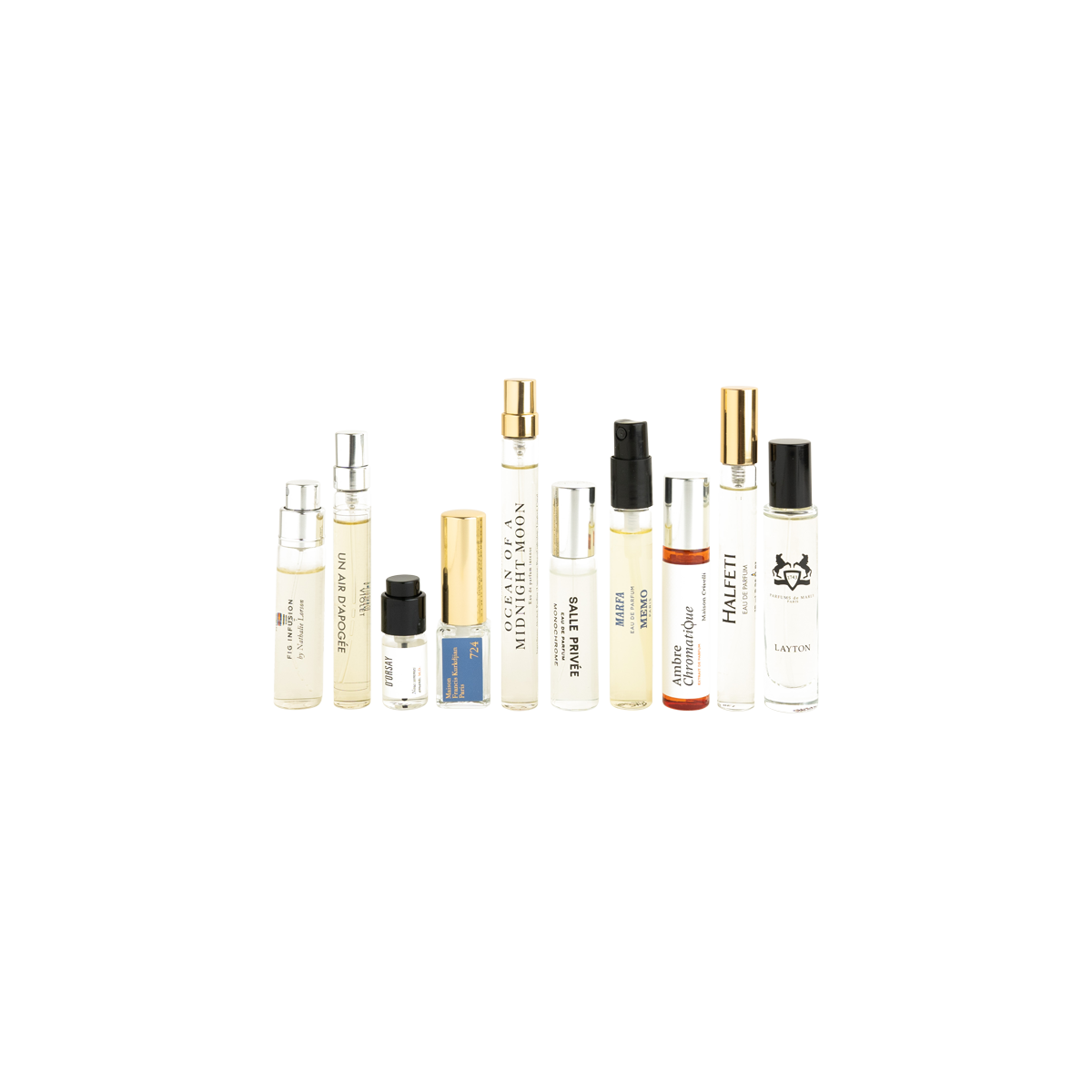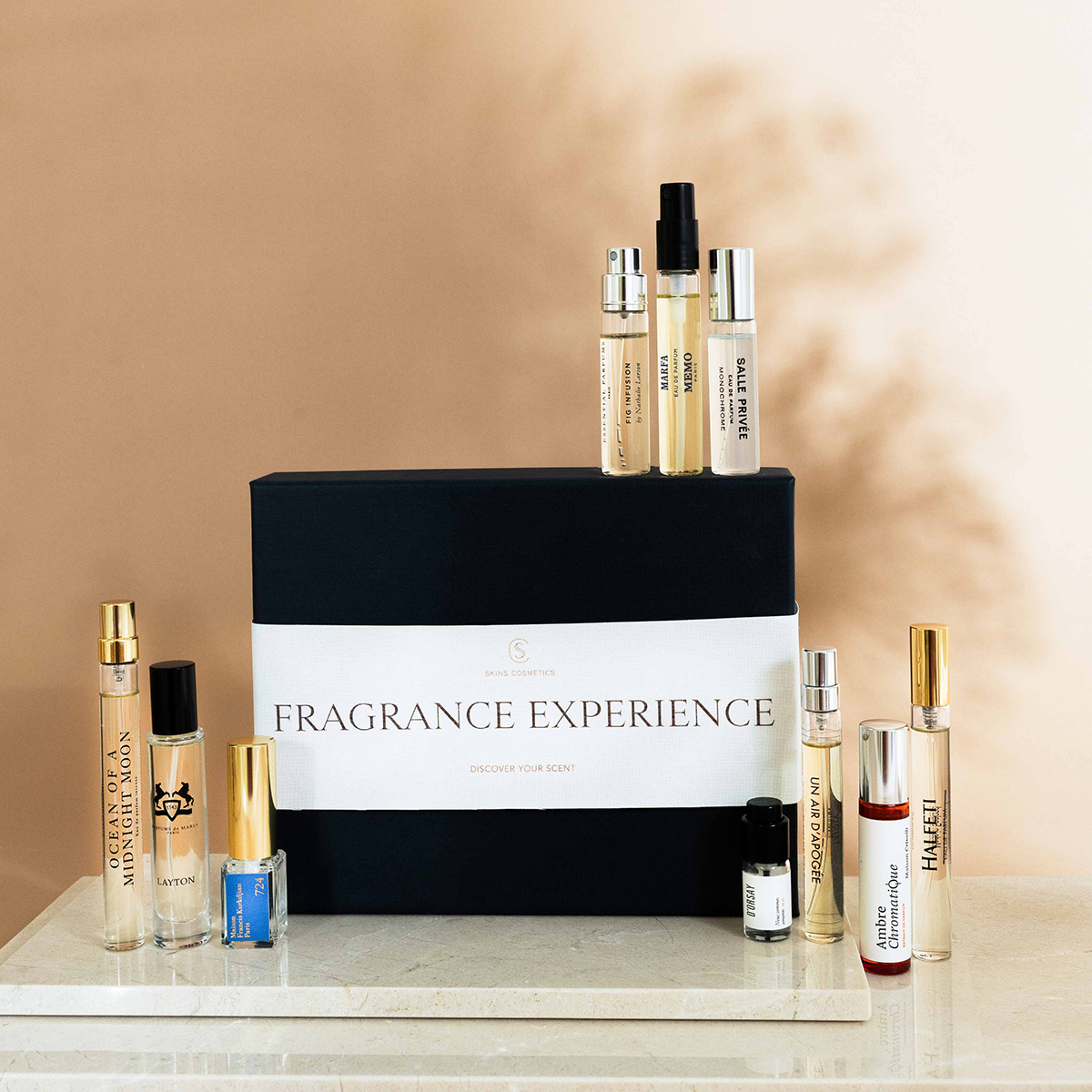 With the Fragrance Experience Box of Skins Cosmetics, we're taking you on a voyage of discovery. In the exclusive box, you find miniatures of sensual fragrances for every moment. Enjoy fresh scents on a beautiful day or spicy and intense scents for the evening. Be inspired and discover new favourites that suit you.

The Fragrance Experience Autumn Box has a value of €171 and contains the following products:
Maison Francis Kurkdjian – 724 Eau de Parfum 5ml
Simone Andreoli – Ocean Of A Midnight Moon Eau de Parfum 10ml
Maison Crivelli – Ambre Chromatique Extrait de Parfum 5ml
Parfums de Marly – Layton Eau de Parfum 10ml
SALLE PRIVÉE – Monochrome Eau de Parfum 10ml
D'Orsay – M.D. Nous sommes amants Eau de Parfum 3,5ml
Penhaligon's – Halfeti Eau de Parfum 10ml
Violet – Un Air d'Apogée Extrait de Parfum 9ml
Memo Paris – Marfa Eau de Parfum 10ml
Essential Parfums – Fig Infusion Eau de Parfum 10ml
Please note: because our Skins Boxes are wrapped in a gift box, they are not additionally wrapped as gifts.
This product is out of stock. Please enter your e-mail address and we will send an e-mail when the product is in stock.
Features
A unique selection of 10 fragrances worth €171.
Beautifully packaged box of soft, energetic and intense fragrances.
Perfect as a gift or to enjoy yourself.
About
article number
126148
Skins Experts
How to
Apply perfume to areas where you feel your heartbeat, such as your wrist and neck. You can mist the perfume on the clothing, to let the scent remain longer. With eau de parfum, extrait de parfum and perfume, perfume is only worn on the skin, because oils need skin to retain fragrance. Cologne and Eau de toilette can be sprayed on clothing. Note: If the perfume has a strong colour concentration, do not mist on light-coloured clothing.
This is the best box I've seen
This box is worth every single penny. It is a good variation of perfumes and everything from the box it self to the bottles is top notch! I agree with the person writing the review before me that the absolute best part is that the box only contains travel samples. I really hope and looking forward to winter, spring and summer edition of this box and that it will be with the same concept at this one. Never have I've seen a perfume discovery box this good. I'm literally so impressed! //Lina Sweden
I just looove all of the fragrance boxes. What I really like about this one, compared to the previous is that it contains only travel sizes and no samples
Be inspired and advised in our boutiques. Come and smell, feel, and experience what truly suits you.
The stock you see below is our best possible indication.
Large stock
Limited stock
Out of stock