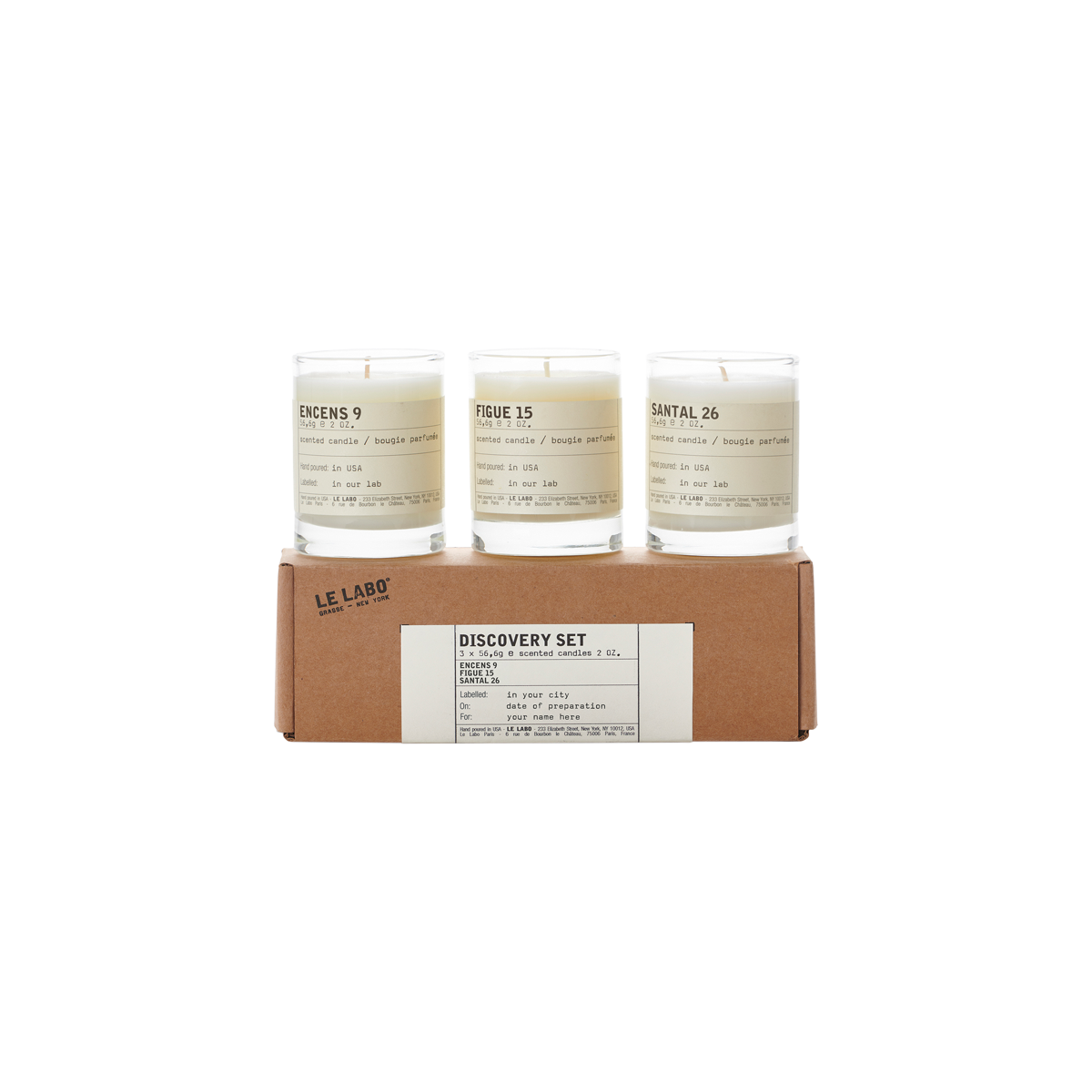 The Classic Candle Collection by Le Labo is an exclusive gift set to get an introduction to the most beloved scented candles of the house. The set includes three scented candles to discover and experience in the calmness of your personal living environment or while you travel. Enjoy this unique selection with a mixture of spicy, woody and fruity notes. An enrichment for every interior, ideal as a gift or to enjoy yourself.
The Classic Candle Collection by Le Labo contains the following scented candles:
Encens 9: A warm scented candle inspired by the scent of incense, softened by resinous amber notes and rich cloves.
Figue 15: The rich fragrance enriches any environment with a delicious, unforgettable ambience of fig and blackcurrant.
Santal 26: Enriched with the sophisticated scent of Santal 26; soft, mysterious and leathery.
This product is out of stock. Please enter your e-mail address and we will send an e-mail when the product is in stock.
About
article number
127582
S26 GLASS VOTIVE - TETRAMETHYL ACETYLOCTAHYDRONAPHTHALENES; DIHYDRO PENTAMETHYLINDANONE; (E)-1-(2,6,6-TRIMETHYL-1-CYCLOHEXEN-1-YL)PENT-1-EN-3-ONE E9 GLASS VOTIVE - TETRAMETHYL ACETYLOCTAHYDRONAPHTHALENES; EUGENOL; PENTADECALACTONE; LIMONENE; HYDROXYCITRONELLAL; METHYLCYCLOPENTADECENONE; GERANIOL; PINENE; VETIVEROL; COUMARIN; TRIMETHYL-PROPYLCYCLOHEXANEPROPANOL; CYCLAMEN ALDEHYDE; METHYLENEDIOXYPHENYL METHYLPROPANAL; NEROL; BETA-CARYOPHYLLENE; CINNAMAL; 1-(2,6,6-TRIMETHYLCYCLOHEXA-1,3-DIEN-1-YL)BUT-2-EN-1-ONE F15 GLASS VOTIVE - COUMARIN; ACETYLCEDRENE
Skins Experts
How to
Always let the scented candle burn until the entire surface is liquid. After blowing out the wick, center it. Before lighting the wick again, cut it with a wick trimmer. By consistently burning the scented candle in this way, the candle will burn slower and it will burn out completely.
Note: Do not place the candle in a draft or directly on a glass or marble surface. Never leave the candle unattended, and do not move or tilt it. Keep out of the reach from children.
No reviews found. Be the first to share your insights.
Be inspired and advised in our boutiques. Come and smell, feel, and experience what truly suits you.
The stock you see below is our best possible indication.
Large stock
Limited stock
Out of stock