LAYERING | 24-01-2023
Why choose perfume layering?
Have you ever heard of perfume layering? This term means that you wear a perfume in several layers. This way, you not only enjoy a longer sillage, it also makes a fragrance experience more intense and personal.

In this blog, our Skins Expert Jorg elaborates on perfume layering by combining different perfume creations. This way, you wear a scent that no one else has.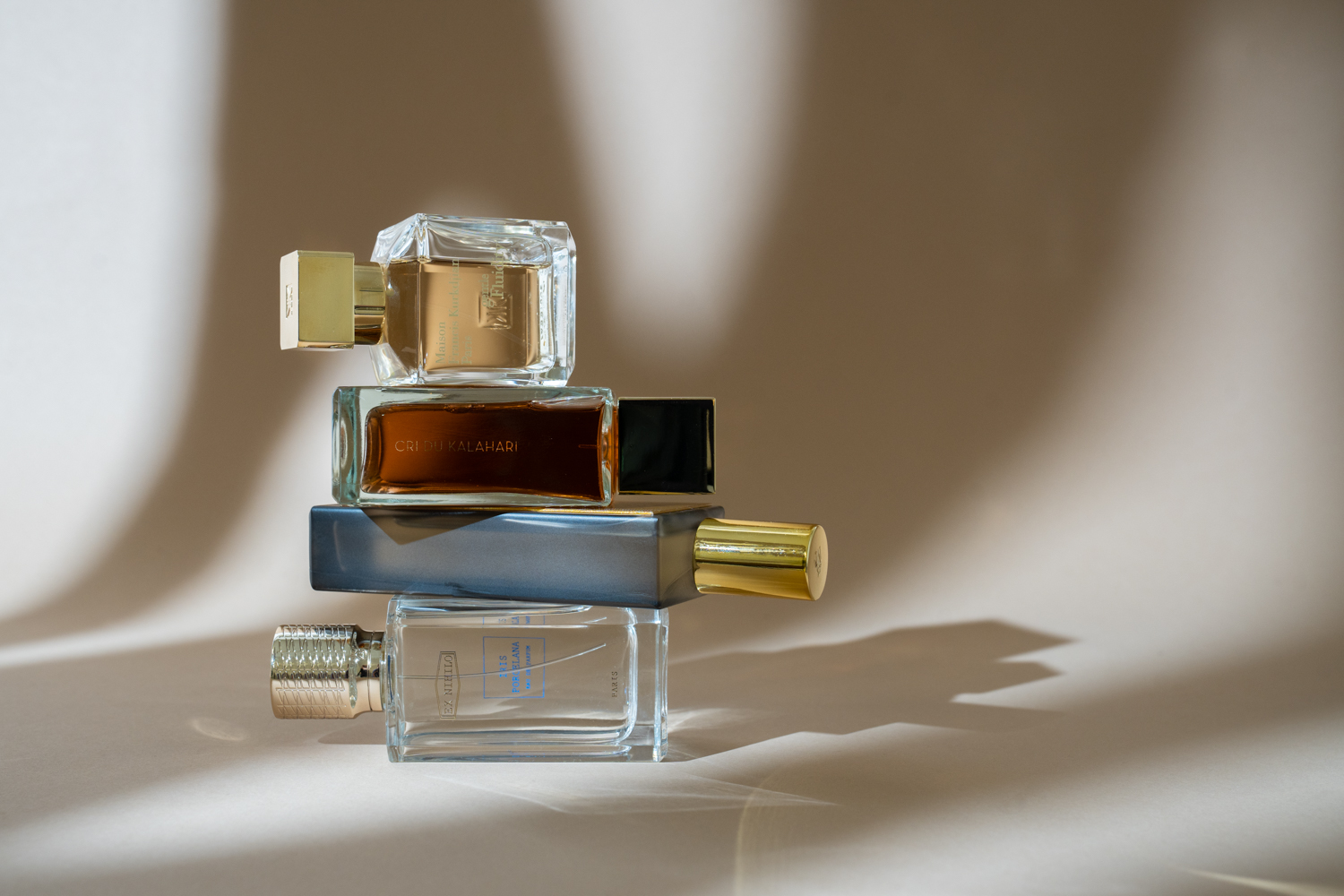 How do you layer perfume?
Skins trainer Jorg has been an expert on fragrance experiences for many years and is happy to advise. 'For a start, there is a big difference between layering and blending. Layering, for example, is applying a scented body lotion first and another perfume over it, so that it is literally layered on top. This can also be done with a nice hair perfume. Blending, on the other hand, is really the end result of scents mixed together'. Although there are no rules for perfume layering, Jorg recommends letting a fragrance dry up before applying another perfume over it.

Jorg: 'Because a molecular fragrance adapts to your skin, I recommend putting it on first. That way it has a little time to melt. You can then layer beautifully over this. Above all, I challenge you to experiment with combinations yourself, and to share them with us. How fun is it when new, undiscovered creations emerge?'
Silky smooth and comfortable with musk
Iris Porcelana by EX NIHILO is a floral and woody fragrance that pays a contemporary tribute to the most refined and exclusive raw material in perfumery: Iris Pallida. Powdery iris is blended with creamy sandalwood and white musk, giving the fragrance a silky and comfortable feel. Iris Porcelana can be beautifully layered with Magnetic Blend 7 from INITIO Parfums Privés: a perfume containing a mysterious blend of seven different musks.Jorg: 'Magnetic Blend 7 really gives a skin -like, cosy feeling, and this is brought out extra beautifully in this fragrance combination, as Iris Porcelana offers softness and comfort. The floral, woody from Iris Porcelana fuses with the musky notes of Magnetic Blend 7 for an addictive sillage. Musk is used in this as a fixative, ensuring a long-lasting effect'.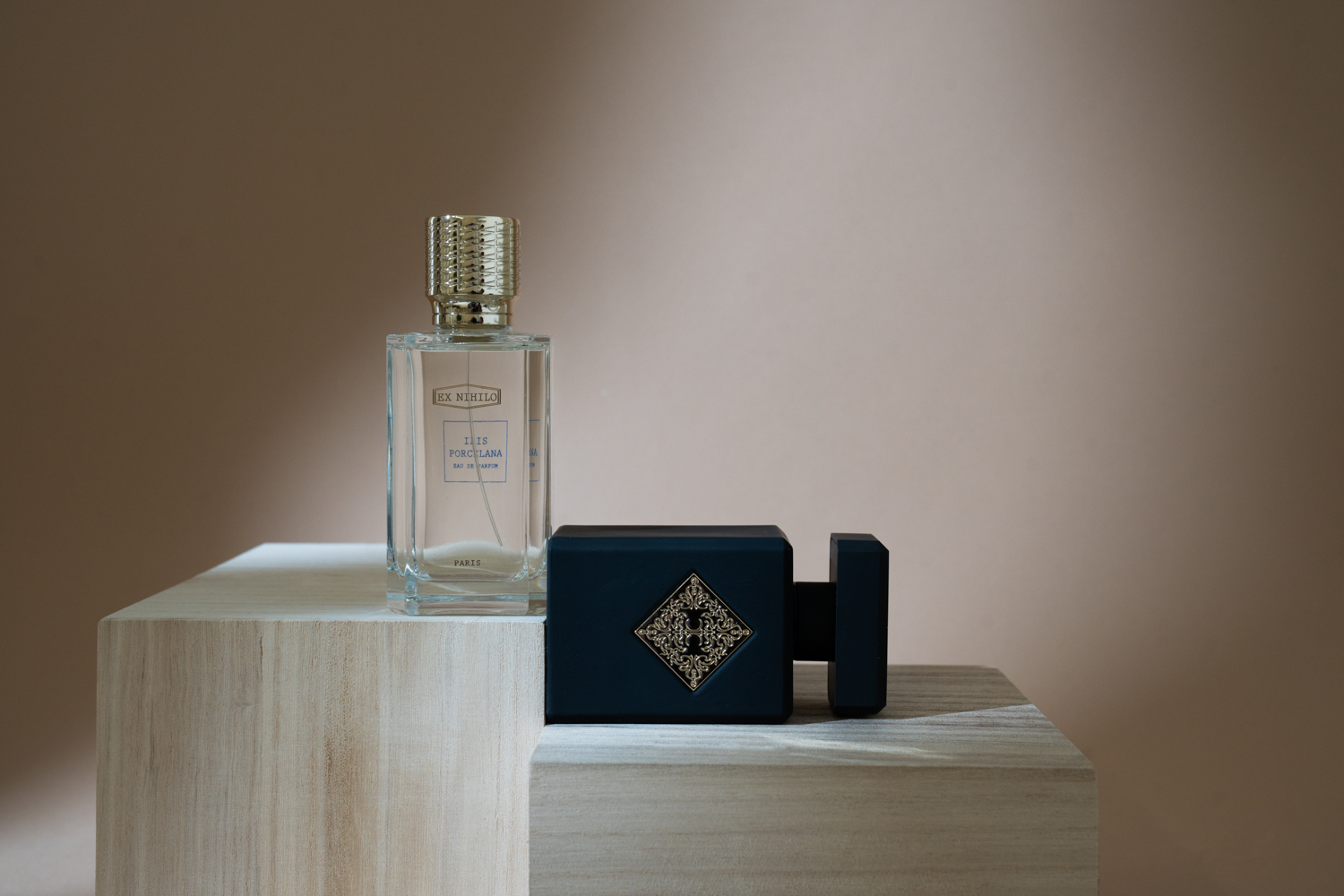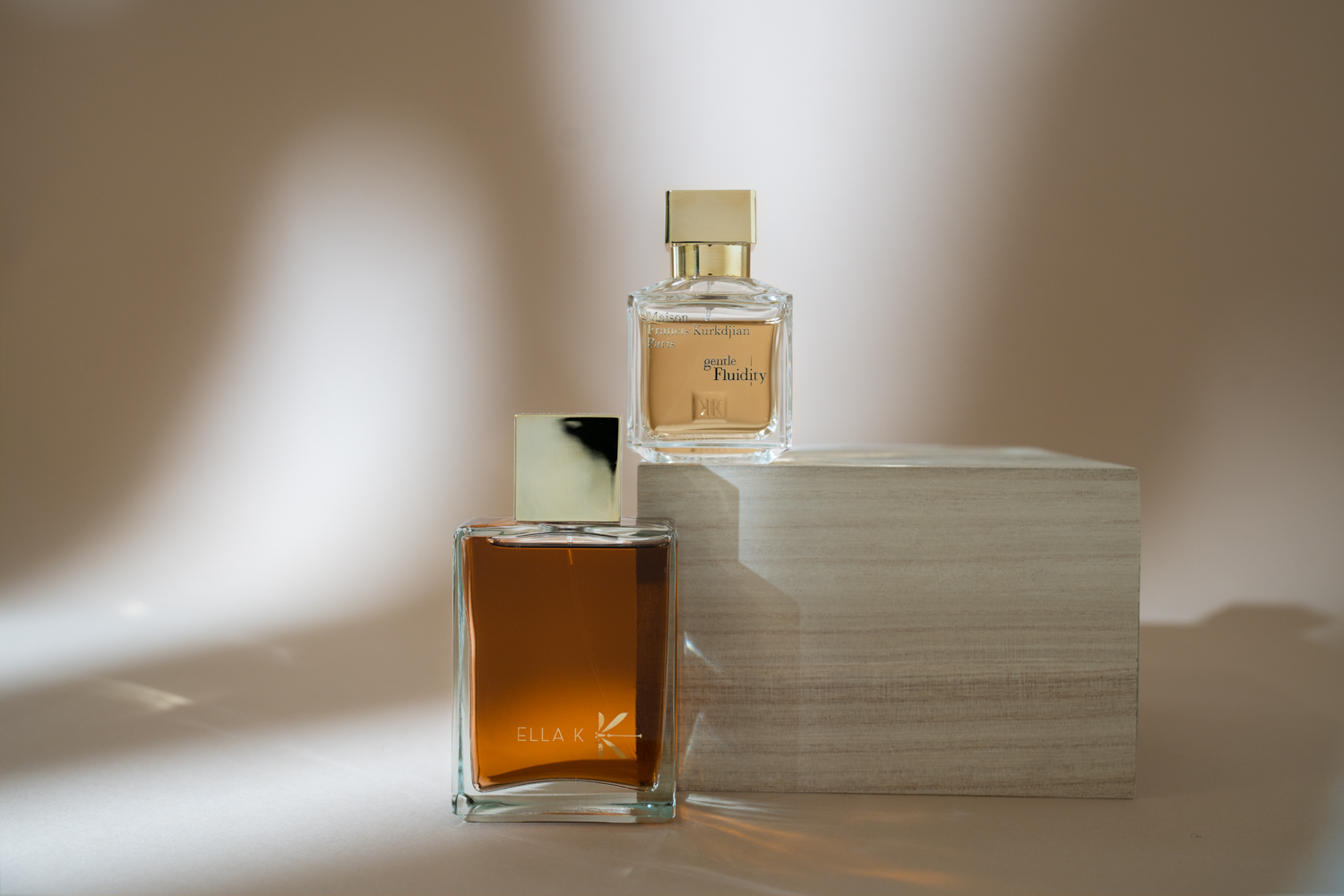 When warm, soft vanilla meets cool and woody
Cri Du Kalahari by Ella K is a sparkling, bright finesse fragrance where you clearly experience cool sandalwood and cedarwood. An ode to the Baobab tree from Africa, this fragrance is woody, and also Jorg's very first love at Skins. 'Cri du Kalahari is the first scent I bought at Skins, and I still wear it today. This is my signature scent and made me fall in love with Skins'. When you combine this beloved perfume with Gentle Fluidity Gold by Maison Francis Kurkdjian, you bring two fragrance experiences together in harmony, like a true love duet.

The warm, soft vanilla of Gentle Fluidity Gold meets the cool, woody from Cri Du Kalahari to become a sublime interplay like that of two opposites finding each other in the middle out of love.
The romance between cool rose and addictive suede
Jorg: 'French Leather really represents that typically Parisian incorporation of leather into perfumes: it's a bit like the inside of a leather bag, giving a suede-like experience. Combined with rose, a flower that represents Paris as the city of love, this is the ultimate ode to romance'. For Jorg, rose scents symbolise his love for his mother, who is a big fan of perfumes with rose. 'In terms of perfume, rose always gives me loving memories: for example, I gave my mother 'Eau Rose' by Diptyque and 'Rose de Pushkar' by Ella K as gifts'.

Kilian's Straight to Heaven is an addictive fragrance, incorporating intense patchouli, dark rum, cedarwood and rosewood to make a powerful and spicy statement'. Layering these two creations creates a romantic tale of a cooler rosewood combined with warm suede and an addictive, rugged undertone.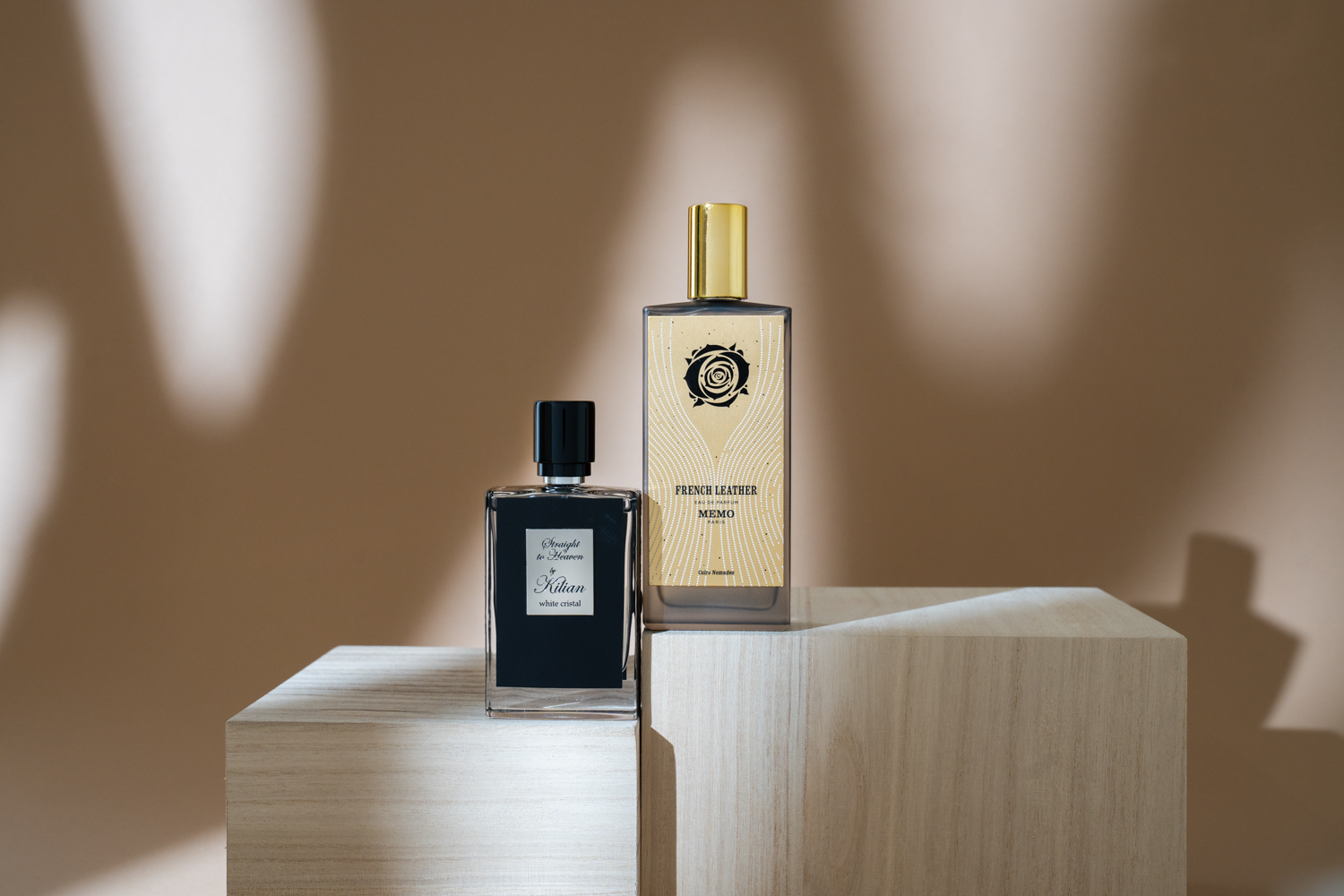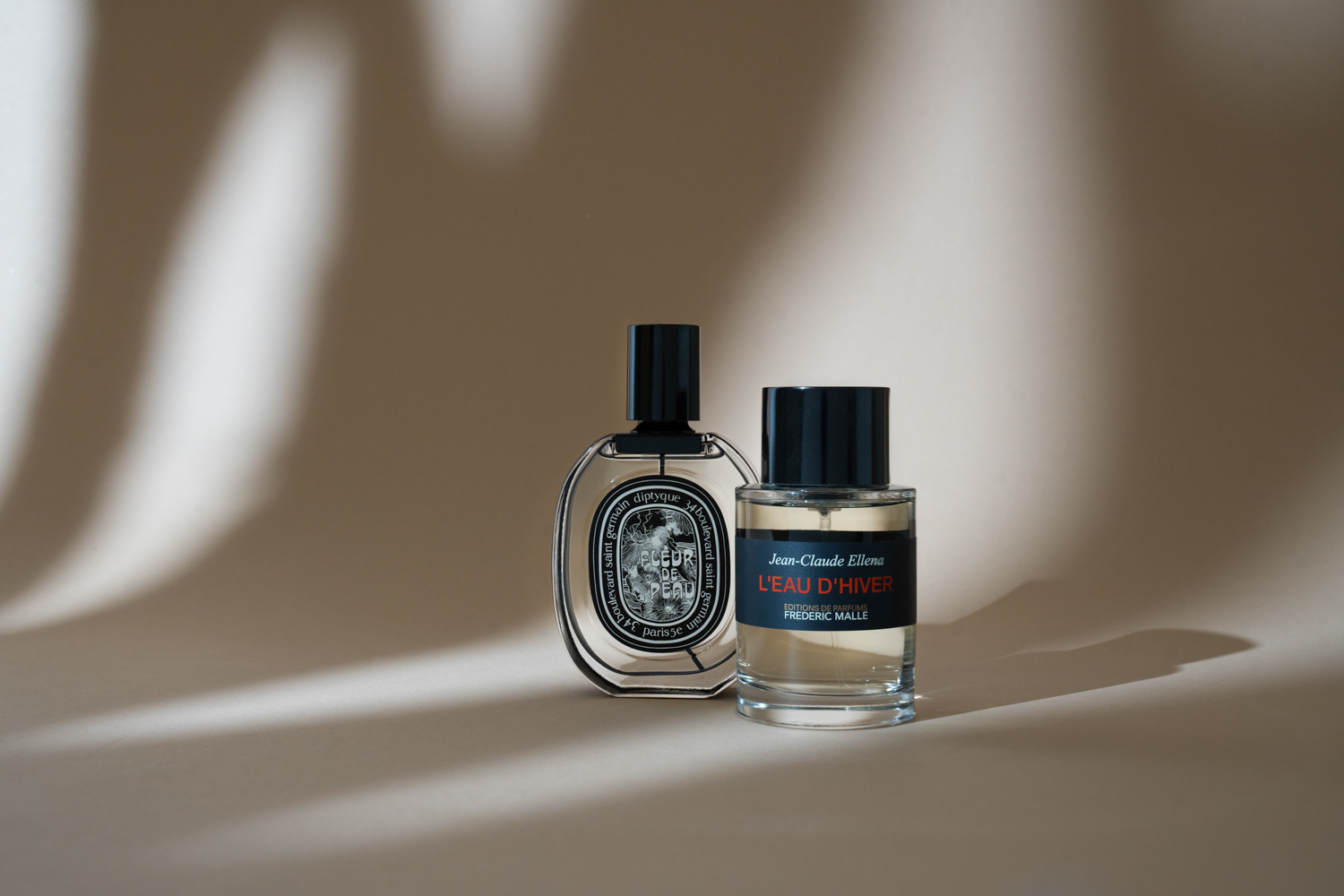 A vulnerable and mythical fragrance duo
L'eau de Hiver is a fragrance that is clean, clear but also warm and an endless source of tranquillity. A transparency of water that merges with the softness of white heliotrope, iris and honey for the gentlest composition imaginable. Fleur de Peau by Diptyque is a tribute to the mythical love between Psyche and Eros, which led to the birth of their daughter. A signature, musky perfume with powdery iris and fruity ambrette seeds, it gives vulnerability and fragility when paired with Frederic Malle's L'eau de Hiver.
Top 3 perfumes to layer with
Enthusiastic about getting started with perfume layering yourself? Our Skins Experts put together a top 3 for you with fragrances where you can't go wrong. Below are the so-called enhancers: these are perfumes that you can easily combine with other fragrances and that can enrich the fragrance experience.

1. 27 87 Perfumes - Genetic Bliss
Jorg: 'Of course Genetic Bliss is at the top, because this is a woody, easy to like and easy to wear perfume'.

2. Le Labo - Another 13
Another 13 is like a glossy magazine you open, and pairs beautifully with almost any fragrance creation.

3. Durga - I don't know what
Jorg: 'As the name suggests, this is a perfect perfume for when you just don't know what to wear. I don't know what gives a warm fragrance experience and offers a citrus undertone to any fragrance you want to layer with'.